News |
Join the Harnessing Talent Platform to retain talent in rural areas
The much-awaited Harnessing Talent Platform (HTP) was officially launched, heralding a new era of opportunities for rural areas. Via this platform, the European Commission shares relevant information and promotes events, best practices as well as access to technical assistance and advice to regions in need, including a dedicated helpdesk.
The platform can be considered as a catalyst for collaboration, enabling the exchange of ideas, knowledge and resources among stakeholders from which rural areas and communities can benefit from.  
Join the working groups supporting the development of talent in Europe. Between 18 July and 15 September, a call is open for stakeholders at EU, national and regional level to be part of 4 Working Groups on the topics of: Digital, Health, Research & Innovation and Territorial development. The Working groups are created as part of the Harnessing Talent Platform launched by European Commission's DG REGIO. Find more information here: https://ec.europa.eu/regional_policy/policy/communities-and-networks/harnessing-talent-platform/open-calls/working-groups_en 
The platform is part of the Talent Booster Mechanism proposed by the European Commission through the Communication on Harnessing Talent. This Mechanism will support EU regions affected by the accelerated decline of their working age population to train, retain and attract the people, the skills and the competences needed to address the impact of the demographic transition. It proposes place based and multi-dimensional solutions, including the use of existing EU funds and initiatives to support regions most affected by the ongoing demographic transition and its side-effects and prevent the emergence of new and increased territorial disparities in the EU.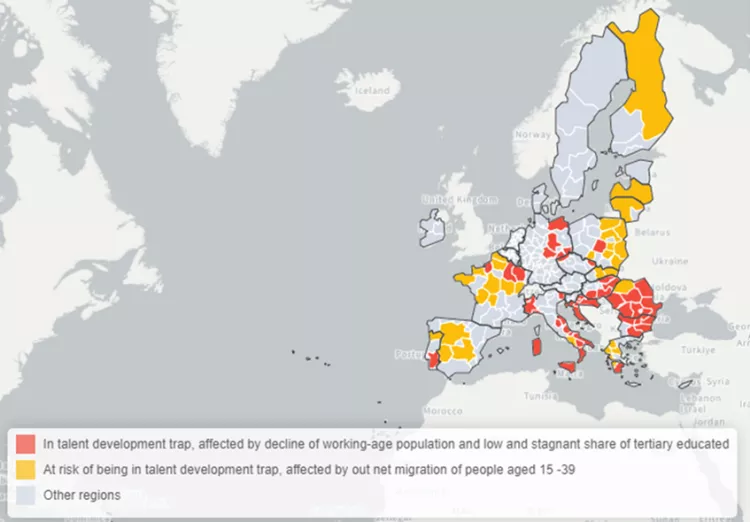 A total of 82 regions in 16 member states (accounting for almost 30% of the EU population) are severely affected by this decline in the working-age population, where regions have a low degree of university and higher education graduates and a negative mobility of their population aged 15-39, being much more prominent in rural areas. 
These regions face specific structural challenges as inefficiencies in the labour market, education, training, and adult learning systems, as well as low performance in the areas of innovation, public governance, or business development. Ensuring that these regions become more resilient and attractive is therefore a crucial element of the EU's commitment to leave no one and no place behind.