What are the enabling factors of rural revitalisation?
The European network for rural development assembled a thematic group on rural revitalisation. It has identified five enabling factors which drive the success of rural revitalisation policies and grouped them it two building blocks: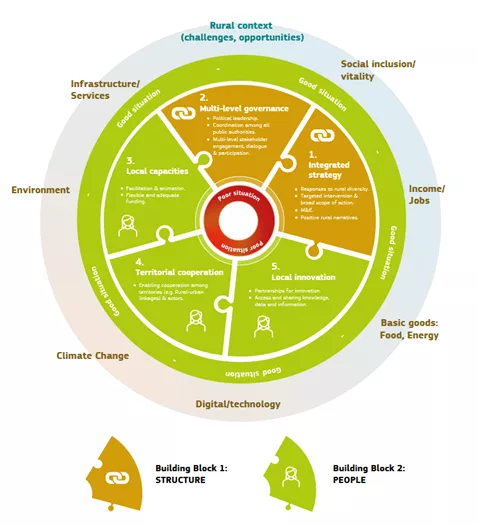 Building Block 1 (Structures)
Covers policy design, coordination and integration (focusing on national, regional levels) and includes the following factors: 
I. Integrated strategies 

II. Multilevel governance 
Building Block 2 (People)
Covers Local empowerment, capacity building and innovation (focus on national, regional and local levels) and includes the following factors: 
III. Local capacities 

IV. Territorial cooperation 

V. Local innovation 
Supporting these enabling factors through policies puts rural stakeholders in greater capacity to address the challenges and opportunities in their context (outer part of wheel) to move from a poor situation to a better one in key areas such as infrastructure, services, social inclusion, environment, basic goods.